Write Lightning is a blog from writer Deb Thompson.
Everyone is welcome here.
(Some links or topics may not be completely kid-appropriate.)

---
Wed, Nov 05 2008
Austin

We had the very sad task of taking our cat for one last trip to the vet. Austin had come to us after a neighbor had fed him as a kitten and had taken him to be neutered. He eventually took up the habit of sitting at our screen/storm door and staring in at us in the evenings. He slowly became more and more of a fixture in our family.
The little guy had been living with
Feline FIV
for some time and had battled skin cancer on his nose, infections, severe anemia and low lymphcyte counts, fevers and a host of other conditions. We had his symptoms treated and tried to keep him comfortable. But the last few weeks he was wasting away, eating a mere bite or two, if any, and he slept most of the time. He had part of a day in the sun on the back deck last Sunday, but other than that, he slept either in his little house (complete with heating pad) or he came indoors, even though this had previously been forbidden or very restricted, because I'm allergic to cats. My spouse put Austin on his lap in the recliner several times and they enjoyed several naps that way. On Monday we brought Austin inside and he slept with a heating pad and soft towel on the recliner. Movement around took energy, so he rested, rising only to change positions a little, take a rare drink of water (which we kept in a bowl beside him) or amazingly, ask to go outside for a bladder break. He used what little strength he had left to insist on the dignity to take those few steps to the outdoors to do his business. He would make a turn back to the house when he was finished and then one of us would carry him back to the chair to rest.
Austin was a great little cat who chose us and trusted us in that regal sort of way that only cats are able to pull off. They are one of God's best ideas. We miss him.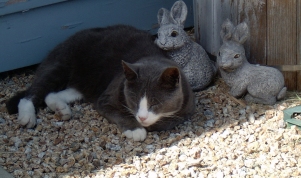 Austin in earlier days, enjoying shade and sun near the garden bunnies
Rest well, sweet kitty.

posted at: 09:50 | category:
/Religious and Spiritual
|
link to this entry